Friends,

It's only been four months since President Trump signed tax reform into law, and the benefits only seem to be growing for West Virginians. Tuesday marked the last day Americans had to file their taxes under the old, outdated system, and individuals and families across the country are already feeling the effects of a simpler and modernized system.

Find out more about how tax reform is helping West Virginians by watching my weekly video message below, and keep scrolling for more updates from this week in the Senate.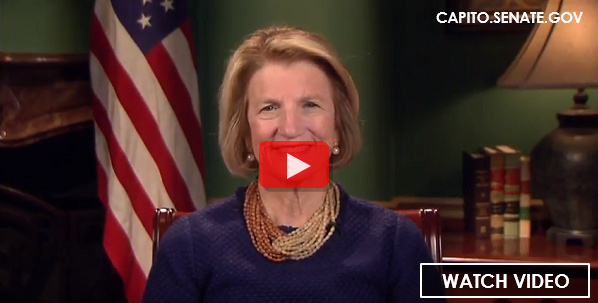 Out With the Old, In With the New

As I continue reading and hearing your stories about solutions you are seeing in your communities, I am so glad to learn that tax reform is really working for West Virginians. I am even more excited to hear the many ways West Virginians are using their extra dollars as a result of these pro-growth reforms.

Whether it's the employee I met in Huntington who is purchasing high-speed internet access so her daughter can do her homework or the Putnam County family I heard from that is supporting a local drug recovery initiative, the benefits of tax reform have spread far and wide. It's not only providing much-needed relief for families and small businesses, but it's also helping to revitalize our communities, expand the reach of local charities, and support efforts to combat the opioid epidemic.

Thanks to the Tax Cuts and Jobs Act, Tax Day has a new meaning. Click here or the image below to hear how West Virginians are benefitting, and keep sharing your stories with me by visiting my website here.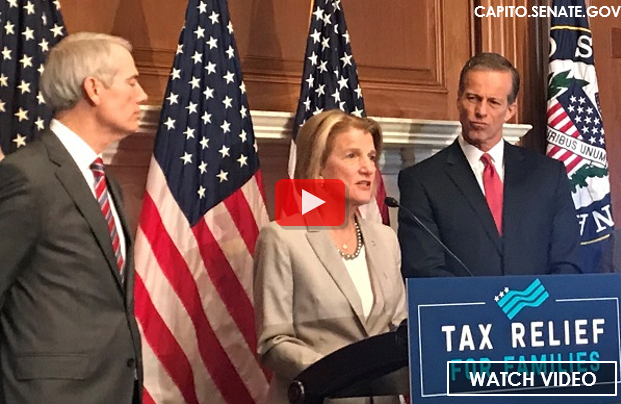 Addressing America's Opioid Epidemic

Also this week, Senate health committee leaders introduced the Opioid Crisis Response Act, a bill I am co-sponsoring to combat the growing opioid epidemic. This comprehensive legislation is a major step forward in addressing this crisis and includes many legislative priorities I worked to secure.

Take hospice care, for example. Currently, hospice staff are unable to dispose of unused medication?even after a patient has passed away. This increases the risk that prescription drugs will end up in the wrong hands. The comprehensive legislation introduced this week includes provisions of my Safe Disposal of Unused Medication Act to change that.

Other provisions I worked hard to include will help with everything from allowing the partial fill of opioid prescriptions and establishing comprehensive treatment centers to providing support services for children and families. While we have made progress in this fight, there's still more work to be done. Click here to learn about this legislation.

Additional Resources for West Virginia

Making sure our West Virginia communities and businesses have the resources they need to succeed is important. As a leader on the Senate Appropriations Committee, I've worked hard to advocate for West Virginia priorities when it comes to federal funding. This week, I was proud to announce several grants that will help communities and programs across the state. Learn more about each one below:
How Can I Help You?

Whether you have a question about scheduling a meeting at one of my offices or needhelp reaching a federal agency, my staff and I are ready to assist you. Learn more about the services we offer at www.capito.senate.gov.

Social Media Recap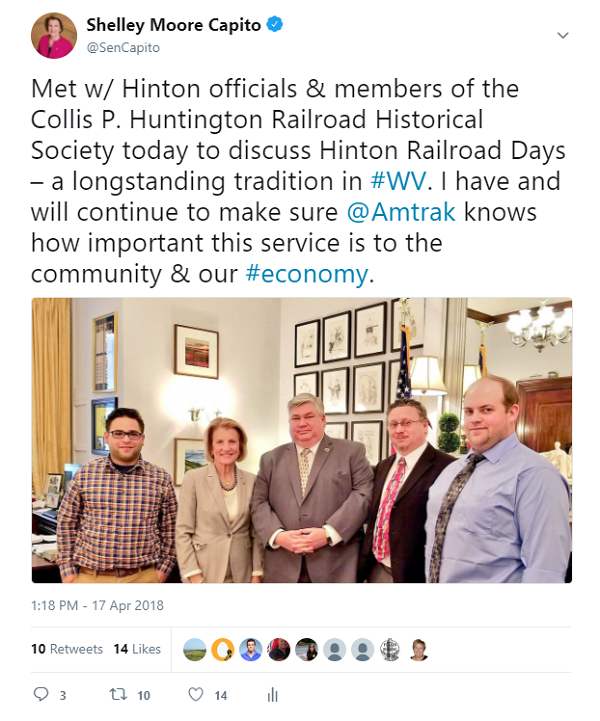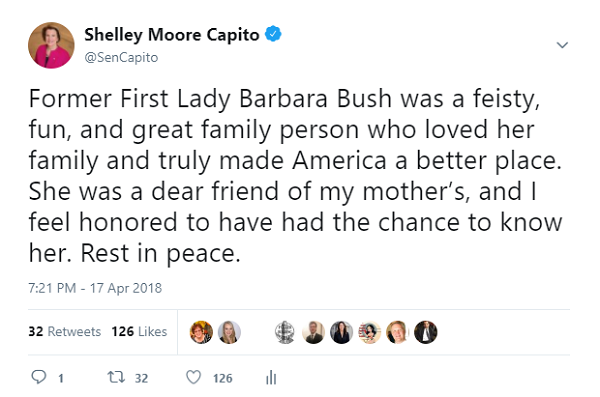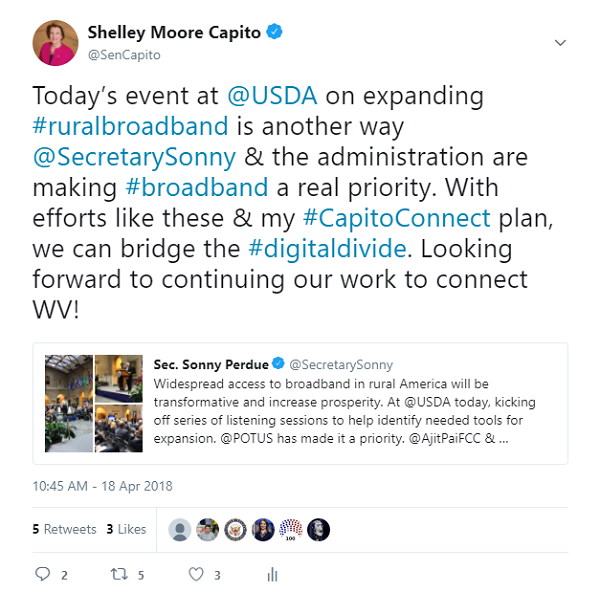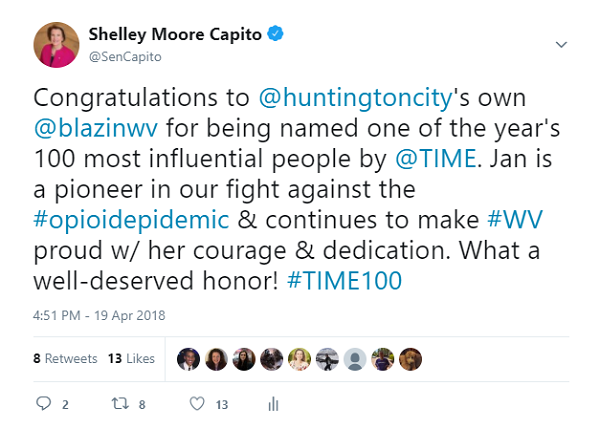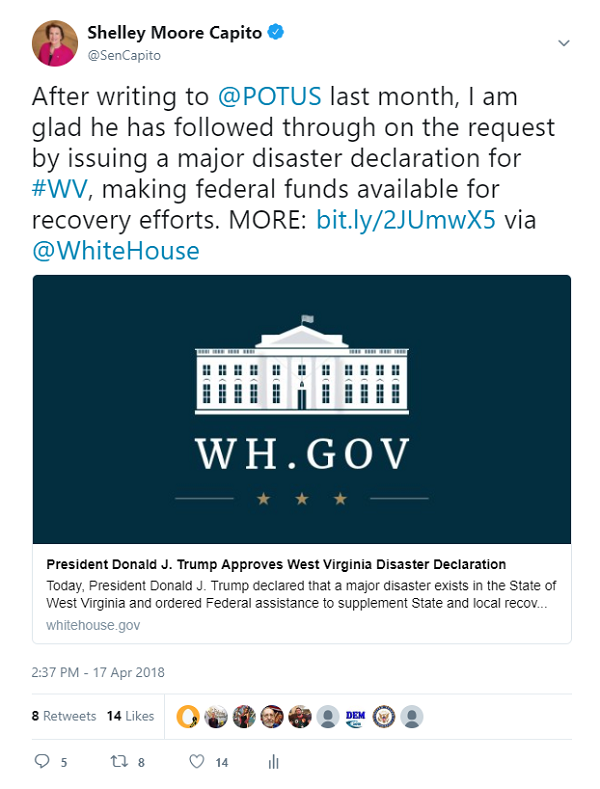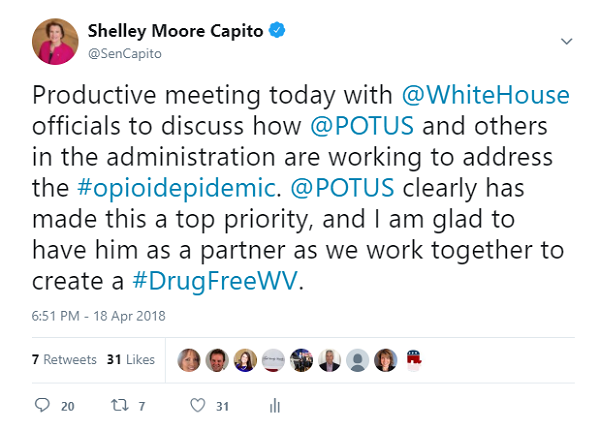 Join me on Facebook, Twitter, and Instagram for regular updates and photos.

Sincerely,

Shelley Moore Capito
United States Senator